For Fido customers trying to connect from the WSL cabin. It turns out the cabin is in a Fido Extended Coverage area which is included in the price of most plans. You have to turn on Data Roaming to get Internet access. This is safe to do for most plans anywhere in Canada but make sure to turn it off if traveling internationally or you could be hit by big bills. Their documentation indicates that your phone should connect to Fido-Ext automatically but I have found that my phone doesn't always do this. You can manually select it by going into Settings – Mobile networks – Network Operators and click on Search networks. That will show you a list of available networks. In Extended coverage areas you will only see Fido-Ext as an option.

More info is here: http://www.fido.ca/consumer/content/extended-coverage

If you're not seeing the Fido-Ext network available in an Extended Coverage area you may need to call customer support to get your account enabled for it. It is initially turned on for all accounts.Fido/Rogers coverage map at WSL. This is based on a google maps base layer. I added the cabin location and lake label for reference in this email. The lake itself appears as an unlabelled water body in the online Fido version as well as the peaks that are shown.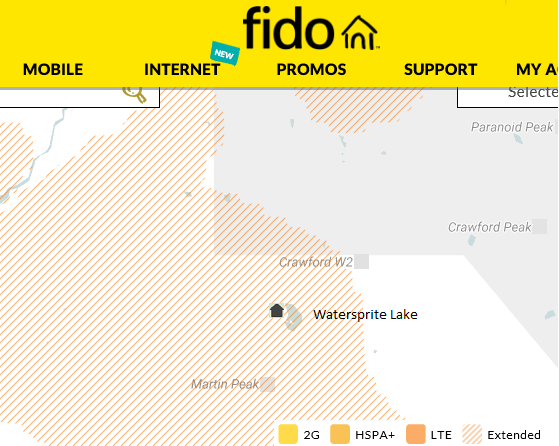 Telus coverage map below. It's hard to tell from the shading but the cabin is in an HSPA area, so that's what you should see when data connected. You'll get LTE from the top of Martin Pk. For Telus customers these are native connections to their network.
General cell phone reception is apparently best from the front deck but signal quality varies greatly between phones. Fido uses Rogers as its native network.
These extended coverage areas generally means they're using the towers of another provider, in this case most likely Telus. This is all thanks to domestic roaming agreements which were signed between Rogers, Bell, Telus, and Videotron in 2015. http://www.iphoneincanada.ca/carriers/rogers-fido-extended-coverage/. This also implies that you should be getting the same signal quality regardless of which provider's plan you're on. They do have some throttling mechanisms if you're a heavy user of extended coverage areas and expect that most of your traffic is from your home provider.

Here's the definitive map of all cell towers and their carriers across Canada. https://www.ertyu.org/steven_nikkel/cancellsites.html. We suspect that the cabin is connecting with a Telus tower located at Quest University in the Garibaldi Highlands.